Raymond Stanley Noble: (Brighton. 17 December 1903 – London. 3 April 1978)
Ray Noble was an English bandleader, composer, arranger, radio comedian, and actor. Noble wrote both lyrics and music for many popular songs during the British dance band era of the 1930's. They include: Nobody's fault but your own, Love is the sweetest thing, Cherokee, You're so desirable, the Touch of your lips, I hadn't anyone till you, Turkish delight, By the fireside, Goodnight sweetheart and his signature tune, the Very thought of you.
---
---
---
---
---
---
---
---
---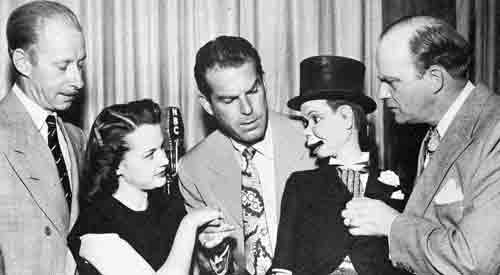 ---
---
---
Timeline:
1926 - Studied at the Royal Academy of Music. Entered and won a Melody Maker competition to find a British arranger to compete with the Americans.


1927 - Assisted Debroy Somers with arrangements.


1928 - Did arrangement for the broadcasts by Jack Payne and the BBC Dance Orchestra. Took over from Carroll Gibbons as musical director of The Gramophone Company.


1929 - From October 30, 1929 to August 30, 1934, all dance band records made by the "house" band of the HMV Studios were directed by Ray Noble. The New Mayfair Dance Orchestra and as Ray Noble and his New Mayfair Dance Orchestra and from 1933, as Ray Noble and his Orchestra.


1930 - In June and July 1930, Al Bowlly recorded several tracks sung in Afrikaans for the HMV label directed by Ray Noble. Noble was suitably impressed and in late 1930 hired Bowlly to sing with his NMDO.


November 20, 1930 - Al Bowlly recorded his very first record with the NMDO. "How Could I be Lonely" and "I'm telling the world she's mine", to rave reviews by the Melody Maker.
The musicians on that session were: Ray Noble directing Max Goldberg, Bill Shakespeare and probably Norman Payne (trumpets); Tony Thorpe (trombone); Laurie Payne (clarinet, alto and baritone saxophones); Harry Hines (clarinet and alto saxophone); George Smith (tenor saxophone); Eric Siday, Reg. Pursglove and Jean Pougnet (violins); Harry Jacobson (piano); Ben Thomas (guitar); Jack Evetts (string bass); Bill Harty (drums); Al Bowlly (vocal). The celeste may be played by Ray Noble. Small Queen's Hall, London, November 20, 1930


During this period, Ray Noble's studio orchestra recorded hundreds of records. Well over 200 with Al Bowlly on vocals. Only the best musicians from the fine bands in London were used. The only adjourn from the recordings was a "summer season" in Holland, 1933. The musicians were mainly from the Lew Stone Orchestra with Bowlly on vocals and guitar. This seems to have been a relaxed affair and there are a whole host of pictures showing them in "holiday" spirits. They even made a short film.


The Noble and Bowlly combination was fruitful and highly successful. Many of the British Noble/Bowlly records were very successful when released in the USA under the Victor label. In 1934, America called and by late 1934, Ray Noble had a contract to play and broadcast from the world famous, Rainbow Room at the Rockefeller Centre. New York City. With foreign musician restrictions in the USA, he took along with him, Al Bowlly and his manager/ drummer Bill Harty.


August 30, 1934, Ray Noble and his Orchestra recorded their final session before leaving for America. The last track appropriately was "Sing as we go"


September 1934 - On arrival in NYC, Ray Noble was introduced to Glenn Miller, who was to help form the rest of the band for Ray to conduct. (Here is an article from a letter by George Van Eps who was Noble's guitarist for 19 years, which dispells a few Miller / Noble myths). While this was happening and whilst Ray Noble tried to get his status with the Musicians Union sorted out; From October 12, 1934 to April 5, 1935, Al Bowlly did a few broadcasts with Al Goodman's Orchestra. The only track found so far is, "Stars Fell on Alabama". Al also recorded four tracks with the Victor Young Orchestra which were released on the Decca label. At the same time, Victor offered Al a solo contract.


Ray Noble meanwhile went to Hollywood to write songs for films and returned to NYC in early December 1934, to rehearse his new band. They went into the studios on January 12, 1935 and recorded four tracks for Al Bowlly's solo contract. They were released as "Al Bowlly with accomp. Arranged and directed by Ray Noble"


Soon Ray Noble and his Orchestra was broadcasting from the NBC studios at the Rockefeller Centre, and recording for Victor. The star of these broadcasts was Ray Noble. The Orchestra finally started playing and broadcasting from the Rainbow Room on May 31, 1935. They were a huge success and during holidays and breaks from the Rainbow Room, the orchestra toured and played other venues.


During this time, "Miller and Thornhill, both fine swing arrangers, found the band's atmosphere congenial enough so that each, while with Ray, wrote the tune that would later become his theme song— Thornhill's Snowfall and Miller's, Moonlight Serenade"


The band worked hard. "We did six nights a week at the Rainbow Room," says Bud Freeman. "We played until 3 a.m., so you wouldn't get to bed until 5 a.m. And we did the Coca Cola show once a week. We were always either rehearsing or recording. Then we were in The Big Broadcast of 1936. The week we were filming that was really something. After finishing work at 3 a.m. in New York we had to be out on Long Island to begin shooting at 7:30 a.m." The picture featured one of Ray's tunes, Why Stars Come Out at Night.


August 1936 - Al Bowlly and Ray Noble returned to England and recorded a 12" medley of Ray's compositions. Al Bowlly did a Pathé short with his friend Monia Liter, "My Melancholy Baby" and also recorded a few, then rejected tracks with Monia Liter & the Ace Of Hearts Orchestra.


They were soon back in NYC and continued their residency at the Rainbow Room. But the jazz oriented band members were getting bored with playing Noble's restrained arrangements and of the 6 day week grind. Glen Miller felt he wasn't being appreciated. The band started breaking up. To make matters worse, the broadcasts got fewer and the Rainbow Room contact was about to finish. With only touring on the horizon, Ray Noble started looking for alternative work.


Hollywood and radio beckoned Ray. Ray Noble and Al Bowlly parted company. Al returned to England. "Noble continued to lead bands in America, moving into an acting career portraying a stereotypical upper-class English idiot."


1937 - The Ray Noble Orchestra appeared in the film, A Damsel in Distress with Fred Astaire, Joan Fontaine, George Burns and Gracie Allen. It was his first acting part. "Noble also played a radio comedian opposite American ventriloquist Edgar Bergen's stage act of Mortimer Snerd and Charlie McCarthy, and American comedy duo Burns & Allen, later transferring these roles from radio to TV and popular films."


Spring 1937 Ray Noble took his touring orchestra to Canada. Here he met and heard the Jimmy "Trump" Davidson Orchestra who amongst their set also played a Noble medley. Noble was impressed enough to invite them to tour the UK under his baton. Here is an article by Vince Egan about the Canadian outfit.


Summer 1938 - Ray Noble returns to England with "his" Canadian Orchestra and extensively toured the UK. No studio orchestra for Noble this time, but a fully-fledged touring outfit. The tour opened June 6 in Glasgow. They played, Edinburgh, Newcastle, Manchester and Birmingham. Llandudno, Blackpool and Margate. They even played Dublin finishing off with shows at the Ilford Hippodrome, the Kilbourne Hippodrome and a two week run at the London Palladium. No records were made during this time but during the Palladium shows, the band went into the studio and recorded transcriptions on wire for later transmission over Radio Luxembourg. (Have these recordings survived?). Ray Noble and the Canadians returned to the USA in September 1938 and went their separate ways. This was the last time Ray Noble played in the UK. He had decided his future lay in the USA.


October 1938 - Ray Noble returned to the West Coast to resume his comedy roles on network radio. By Oct. 11, he was in a Los Angeles studio to record his next hit, Cherokee.


1939 - California: "He organized a new band of youngsters. Ray remembers it as "a bloody fine band, vastly smoother than the New York band and we played better jazz. And, of course, I was more experienced then. Audience reaction was something I hadn't been too familiar with when I had arrived in New York. I had a pretty good book by the time I got here, too, 70% of it was always mine. It was a damned fine book." Ray's excellent dance music brought the band long engagements in Los Angeles, San Francisco, Chicago, Denver and Ft. Worth, in addition to the steady job on the Burns and Allen show.
Unfortunately, WW2 broke out and soon after, the band disbanded.


1940-45 Ray continued to record, using his skill in framing vocalists to the advantage of such Columbia stars Tony Martin and Doris Day. He appeared with Edgar Bergen in the 1942 film Here We Go Again. He also provided the orchestration for the 1942 Lou Gehrig biopic The Pride of the Yankees starring Gary Cooper. Noble also became an American citizen.


1946 - Buddy Clark; Noble's "band" backed Clark in his 1946 hit, Linda. Ray Noble and his wife Gladys settled down in Beverly Hills.


1957 - The Bergen show went off the air. "Ray was with me 15 years," says Bergen. "Ray did some TV work and successfully led a band for nine weeks at San Francisco's Mark Hopkins Hotel, but after that he began to fade from view."


1958 to 1968. The Nobles retired and moved to the Isle of Jersey and travelled for 6 months of the year.


1971 - They bought a plush house in Santa Barbara, California.


In March 1978 he flew to London for treatment of cancer, and later died of the disease at a London hospital on, April 3. 1978.
Links and info about Ray Noble
This Ray Noble page is compiled from contributions from a wide range of sources. I'd like to thank Colin Aitchison from Ned Kelly's Last Stand in Hong Kong, for providing the Vince Egan and George Van Eps articles. Ned Kelly's is "one of Hong Kong's oldest and best-loved bars, with a jazz band that has attained legendary status, plying their trade every night". "Still playing at Neds which is in it's 47th year. One guy who comes along with a few witty songs is Neville Sarony son of Leslie Sarony - Rhymes etc..". Colin also does a nostalgia show on RTHK radio in Hong Kong on a Sunday morning.
---