Roy Clifton Fox - The Whispering Cornetist: (Denver, Colorado. October 25, 1901 – London. March 20, 1982)
Roy Fox was an American-born British dance bandleader. One of the earliest jazzmen in America who was lured to fame in the United Kingdom. He was immaculately dressed in tails which were designed so he looked good from the back. He also led some of the best musicians in the 1930's.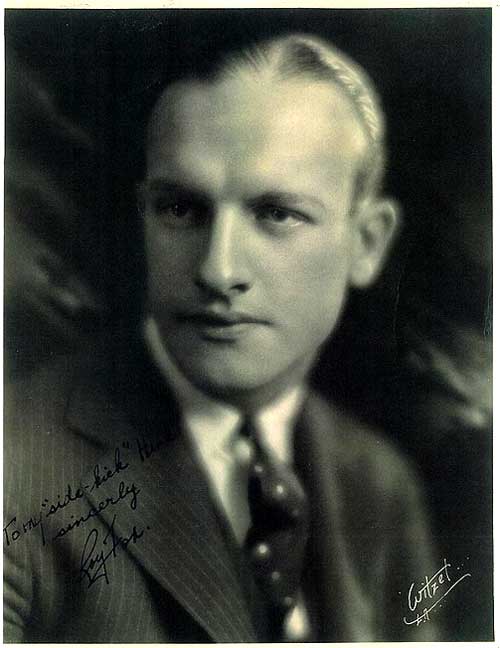 ---
---
---
---
---
---
---
---
1918. At only 16 he first began playing lead trumpet with Abe Lyman's Band at the Sunset Inn in Santa Monica. The band included trombonist Miff Mole, clarinettist Gussie Miller, and pianist Gus Arnheim.


1920 - 22. He formed his first band and took it on the road, performing regularly at the Club Royale, next to the MGM Studios .


In 1925 Fox began making records and broadcasting live from the Biltmore Hotel with Art Hickman & His Orchestra. The band toured and finally Fox ended up in New York City, where he put together a band and played the Avalon and Beaux Arts clubs.


In 1927, Fox did nightly radio broadcasts from Hollywood's Ambassador Hotel with the Gus Arnheim's Cocoanut Grove Orchestra as well as more live broadcasts with his own band from the Montmartre Café on Hollywood Boulevard. He was also employed at the Fox Film Studios, supervising their Musical Production Department.


1929. Roy Fox was invited with his American band to, come to London and play at the Café de Paris.


September 29, 1930. Roy Fox and his American band opened at the Café de Paris for a two month stint. He did a few recording for Decca with vocalist Kenneth Allen. When the contract ended. The band went back to America but Roy Fox was offered a contract to play at the newly opened Monseigneur Restaurant in Piccadilly


May 27, 1931. Roy Fox opened at the Monseigneur Restaurant with a 10 piece British band: Nat Gonella, Sid Buckman (trumpets); Joe Ferrie (trombone); Billy Amstell and Ernest Ritte (alto sax); Harry Berley (tenor sax and viola)' Lew Stone (piano, arranger); Don Stuteley (bass); Bill Harty (drums) and Al Bowlly (guitar & vocals). Roy Fox occasionally playing his "Whispering Cornet'. Lew Stone and Bill Harty apparently brought along Al Bowlly after finding him busking.


In late 1931, Roy Fox fell ill with pleurisy and his doctors sent him to Switzerland to recover; leaving Lew Stone in charge. Roy Fox was absent from November 1931 to April 1932. On his return, he resumed control of the band but when the band's contract came up for renewal in the autumn of 1932, Roy Fox and the management at the Monseigneur couldn't agree on terms. The management, then offered the job to Lew Stone. Most of the band wanted to stay with Lew Stone, including Al Bowlly. Roy Fox tried to hold onto "his" most valuable singer but lost in court.


October 1932. He then formed another great band with Sid Buckman at the Cafe Anglais in Leicester Square. They gathered, Harry Gold (tenor sax), Jack Nathan (piano), Ivor Mairants (guitar), Maurice Burman (drums) and Eric Tann (trombone), plus Jack Plant (vocals).


January 1933 he moved to the Kit Kat Club and added singers Peggy Dell, Jack Plant, Ronnie Genarder and Denny Dennis. For many years Roy had a beautiful house in Highgate, "every year he bought a new Rolls Royce."


The band returned to the Café de Paris in February 1934 and then went on tour


They played to the Kings and Queens of Belgium in Brussels and did a Royal Command Performances at the London


He moved from Decca to HMV in 1936 and continued touring the UK and Europe.


He broke up the band in August 1938, when his health failed again.


After a rest for a few months he got a call from Australia. Jay Whidden & his Palais de Danse Band were playing at the St Kilda Palais, Melbourne, Australia. Jay had to return to the USA and he suggested Roy take over the band in his absence.


January 15, 1939. Roy fox arrives in Melbourne and fronts the Jay Whidden band. He took his vocalist, Pat McCormack with him and was doing regular broadcasts on the ABC.


Whidden was back in Melbourne by April 1939 and in May, Roy Fox made the mistake of touring Australia. The travelling distances were simply too large and rural Australia at the time was simply not geared for a traveling band. It was a financial disaster. He decided to return to the UK but war had been declared and he was forced instead to return to the USA.


He was back in Hollywood for Christmas 1939. He received an offer to play at the Rainbow Room, in Radio City, and he booked a singer named Kay Kimber. But before he could open, the Rainbow Room was closed because being at the top of a skyscraper, it was considered an air raid risk.


He played several small venues and in 1943 and he also married Kay Kimber.


He finally returned to England in 1946. He was re-united with Sid Buckman and formed a band to play a few small venues. He then went on tour and realised, times had changed. Again he was financially ruined.


He managed to get a summer season at the Palace Ballroom on the Isle of Man followed by a stint at "Dublin's Theatre Royal, to produce shows and conduct a stage band of Irish musicians". Kay Kimber divorced him. In Dublin, he met an actress, Eileen O'Donnell, married her and had a son, Gary.


In 1952 he phased out music and opened an entertainment agency that was marginally successful.


Eileen O'Donnell divorced him.


At some point he ended up at the Variety Artists' home at Brinsworth House, in Twickenham, London.


Roy Fox died in London on March 20, 1982.


In 2008, I met Roy Fox' son Gary. He was selling his father's private record collection of 78's and reel to reels. "They've been sitting around for years, I don't know what to do with them." He is a very pleasant man and his home in London was plastered with images of his father and pictures of the rich and famous. He told me about the wild times he had hanging about with the Beatles and the carefree hippy days of the 1960's and 70's. A very pleasant and memorable day spent with Gary Fox. As I was leaving, he gave me what looked like a silver tin. "It's my father's ink block, it used to sit on his office desk, and it's engraved with his initials". I was speechless.
Links and info about Roy Fox
---